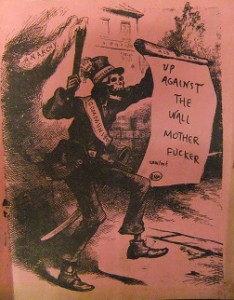 I organised an event last month at LARC in East London with the folks at Red Channels, which I was really excited about.
We're Here to Talk About the Family: A discussion with Ben Morea
17th June, 18.00-19.30, LARC, 62 Fieldgate Street, London.
Please join us for an open discussion with Ben Morea, publisher of Black Mask (1966-1968), and member of Up Against the Wall/Motherfuckers (1968-1969).
Active in the art and anarchist communities of New York City's Lower East Side from 1959-1969, Morea dropped out of public sight for 35 years before resurfacing at New York's 16Beaver space in June 2004 at an event or…ganized by Eve Hinderer. Things in the world had apparently gotten too bad, too similar to the conditions of the late-60′s–when Morea was both theorizing and practicing an insurgent form of street action to challenge all forms of authority–for Ben to not try to help. Since 2004 Morea has given a number interviews and participated in a series of public discussions to share his experiences in "The Family," as he refers to the Motherfuckers, with the hopes that today's militants might find their story useful.
Afterwards, LARC's red and black club will be running a bar and social, so hang around.
FB event link, feel free to share: https://www.facebook.com/event.php?eid=230603233632914#!/event.php?eid=230603233632914 Members of Lisbon's Edições Antipáticas, Madrid's La Felguera Editores, and New York's Red Channels have organized a series of discussion events for Ben in England, Portugal, and Spain from June 16-July 1.
Some recent editions of the collected writings of Black Mask and the Motherfuckers include: London's Unpopular Books (1993), Melbourne's Homebrew Press (2007), Madrid's La Felguera Editores (2009), Oakland's PM Press (2010), and Lisbon's Edições Antipáticas (2011). Ben Morea now has a blog at www.e-blast.squarespace.com
…Sadly it couldn't be audio recorded, but you can hear a really quick  interview I did with Ben on the edition of Dissident Island Radio from that week.
And you can read a a couple of great short blog posts on the event here and here